Big Data is NOT NEW, it has been around for decades. But now, key technologies, including NoSQL databases, distributed file systems and virtualization, have evolved and converged to get Big Data within reach. From enhanced revenue management, to proactive maintenance, to individualized marketing tactics, access to Big Data brings big returns to airlines.
According to a survey from TCS, half of the sampled organizations undertook Big Data projects in 2012. Travel, hospitality and airline companies invested 2.5 times more than the average, and expect a return of 38%.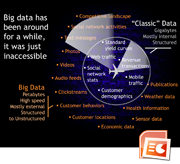 Access more resources, articles and thoughts.